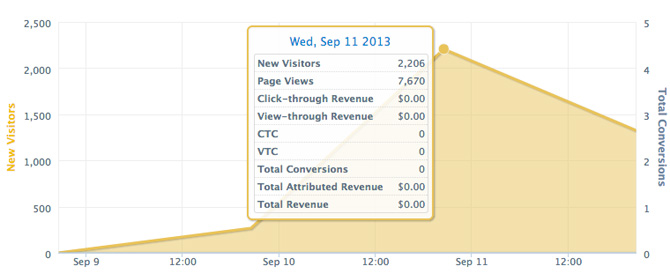 Day 6 follow up #2 (was to short to post) – I don't know what's going on here, but I just registered another sale yesterday. I think it maybe dude to the Sept 11 holiday today. Maybe people taking the day off – I'm not sure if banks are closed or not. Since my product is family oriented, that could be the reason.
Real Day 7 follow up – Another 2 sales today from Variation #1. Clearly this is going to be the winning variation. 🙂
Sales Conversion:
Original (baseline): 1 sale [ 1 / 707 – 0.001414% conversion rate ]
Variation #1: 7 sales [ 7 / 748 – 0.009358% conversion rate ]
1455 Unique Visitors
AdRoll.com: That re-targeting pixel is on 3627 sheep, errr people, from the last 3 days, pretty good. (Screenshot is way above)
Optimizely.com: The Variation #1 is out of control, currently 660%+ improvement over the Original is kind of insane. I never thought that would happen, but goes to show you the power of simply changing the copy of your sales page. If we crack 1%, that's beyond insane… I refuse to believe that I can increase conversion by 5x from a simple 7 day A/B split test run. That's crazy. All with free trials of the software.