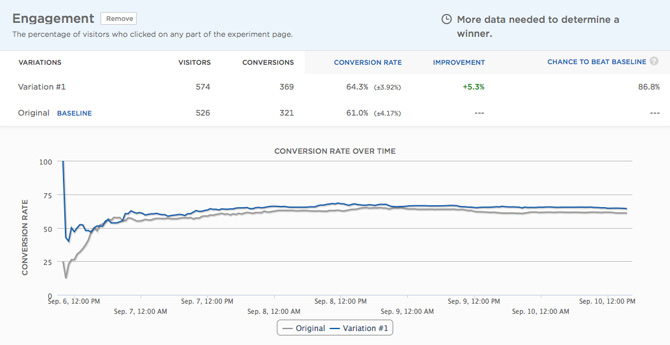 Optimizely.com: We passed the 50% mark, currently have 1,100 unique visitors to the test. From the screenshot above you can see the Engagement results (clicks on the page).
Sales Conversion:
Original (baseline): 1 sale [ 1 / 526 – 0.0019% conversion rate ]
Variation #1: 2 sales [ 2 / 574 – 0.0035% conversion rate ]
1,100 Total visitors in the last 5 days.
I'm really starting to hate this landing pages design, but will continue on to another 900 visitors. I'm getting the old lander ready for split testing as we speak. Looks like in 3 or 4 days, we should be done with this test. Overall, horrible results in terms of sales.
Crazyegg.com: Nothing new to report in Crazy Egg. A majority of what I discussed in the previous days is still being seen.
Additional:
Alright, so to keep things in perspective, I'm going to go back to the launch day, and display the stats by months to give everyone a picture of the story:
May 13 to May 31:
Orders: 12 sales
Landing Page Visits: 5,743
Conversion Rate: 0.002090%
Revenue: $348.29

June 1 to June 30:
Orders: 17 sales
Landing Page Visits: 11,734
Conversion Rate: 0.001448%
Revenue: $400.28

July 1 to July 31:
Orders: 6 sales
Landing Page Visits: 5,215
Conversion Rate: 0.001150%
Revenue: $151.07

August 1 to August 31:
Orders: 14 sales
Landing Page Visits: 6,576
Conversion Rate: 0.002128%
Revenue: $357.37
Looking at the numbers, and past notes, I launched the new design after May 30, and was doing testing for a while afterwards, about a month. I can't tell which design got results though, so I just chose to go with the new design with not actually factual data!
Around Jun to July is when I removed the a/b split test, and stuck with the new design AND removed an on-exit promotion – for what reason, I don't know (july 20 to be exact). Looks like I installed my custom mouse positioning similar to mouseflow on that date – possibly forgetting to re-instate the on-exit pop up after test!!!
Looking further into the data, the on-exit popup was responsible for 6 sales from May to July 20th, so it appears that screw up is costing me in conversions (Over 12% of total sales – gone, wiped out – facepalm.jpg)! Doing the numbers on the on-exit pop up 6 out of 5641 is 0.001064%, that could be added on-top of the current conversion rate if you ask me!
Anyways, I'm going to instill the on-exit pop up in the next round of a/b testing.
Update: I updated the May sales revenue from $200.81 to $348.29 (the correct number).