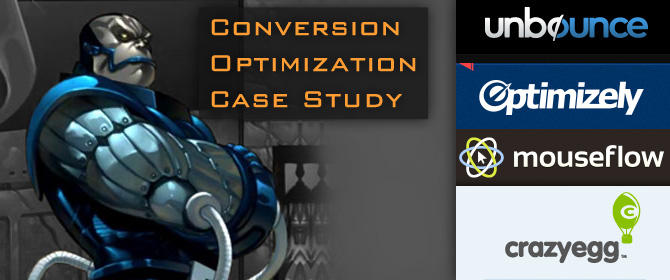 Optimizely.com: Oh snap.. No auto pause setting. I guess the only way to end a campaign is to pause it, so I did that. No new sales today yet.
Sales Conversion:
Original (baseline): 2 sale [ 2 / 1016 – 0.001969% conversion rate ]
Variation #1: 8 sales [ 9 / 1028 – 0.008755% conversion rate ]
2044 Unique Visitors
Looked into Google Analytics, cause I forgot there was some integration and found some nice stats under Audience > Custom > Custom Variables.
Sept 5 – 14, 2013
Original has a 13.79% bounce rate
Variation #1 had a 11.16% bounce rate.
All the other results are a little meh – non-sense in my opinion. I put the winner as Variation #1, beating the Original with a 445% improvement in sales!
Adroll.com:
Total Unique Re-targeting Visitors: 9,754
Landing Page Specific: 722
Crazyegg.com: I'm going to use the knowledge I gain from crazyegg to make the final edits to the old lander, which will be Experiment #2. I'm also thinking of using the variation #1, as the Adroll.com retarget campaign landing page with an on-exit popup this time!
Conclusion: All in all a great beginning. The free trials have made me money! That's really what matters. Being able to increase sales by 445% is no laughing matter or a small feat. I'm going to work on getting the 2nd experiment going as soon as possible but for now have put the winning variation as the landing page that running now.