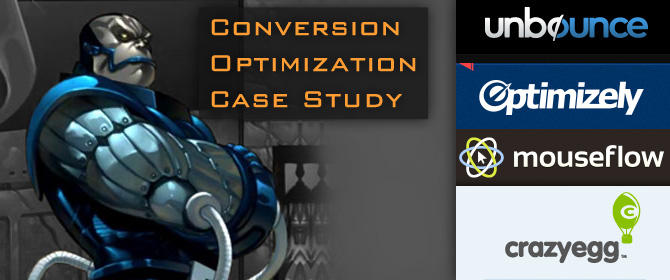 I went through the 68 page PDF from Unbounce and learned quite a few things about my landing page which I completely screwed up.
CTA – My CTA is bright pink, but doesn't standout as it should since the landing pages is very rich in colors already. My first test will be to change the color of the CTA buttons to a pastel cyan/green.
Directional Cues – I need better directional cues on the landing pages to help streamline the flow – I might even incorporate a smooth scroll, and a wikipedia style content box that navigates visitors to the desired benefit.
Scarcity – My offer doesn't have any scarcity factors. It is a digital product so at best I can give the impression of an upcoming price increase.
Social Proof – I have no testimonials for the social proof aspect. I do have a Veripurchase like script which I use to show "recent customers" who have bought the product, but it is currently not in am optimal place on the landing page. It would work better near the CTA button. (The new landing page actually has it there already). I also should get some Facebook likes, tweets, and more social shares on that particular page – even if I have to buy them 😉
AIDA – There is no AIDA (Attention, Interest, Desire, Action) flow to the landing page. The copy doesn't have any flow to it at all. It was literally stuff I came up with on the fly.
My Headlines suck – my main headline and sub headlines don't include "New" or anything that's persuasive about it. Just talks about features and not benefits. It should also talk about the Instant download since it is a digital product and the capability of using it on mobile and tablet devices – which it doesn't!
I'm going to create an a/b split testing journal with hypothesis of each test and go from there. The general rule is to get 100 conversion or 1000 visits to page to get good statistical data. The problem is I'm not even at a 1% conversion rate, so I doing a shotgun approach to see what sticks and since the LP is getting an average of over 200 people a day to it, but no conversions. I find that to be a disservice to the amount of time and effort put into creating the product, so now it's time to fix things.
I read the marketingexperiments.com presentations I linked to (Landing Page Optimization: 6 common traits of a template that works, it was pretty quick and easy, but I found out it had a 36 Min youtube link that goes further into depth – Page Templates that Work. I'm going to follow up with that one in a day or too, I ain't got time for that right now. I skimmed through the 36 Creative Landing Page Design Examples – A Showcase and Conversion Critique, which was an interesting re-cap of the 68 page from UnBounce, but I'll go more in-depth tomorrow, since I'm a little exhausted from the 68 pages still.
My main objective is to setup the free trials for test, and setup the first a/b split test. Just a recap, I'll be using mouseflow to view videos of individuals using the landing page, while using crazy-egg to view heatmaps of what is click. I will then use Optimizely to a/b split test the different elements which i found to be rather weak.