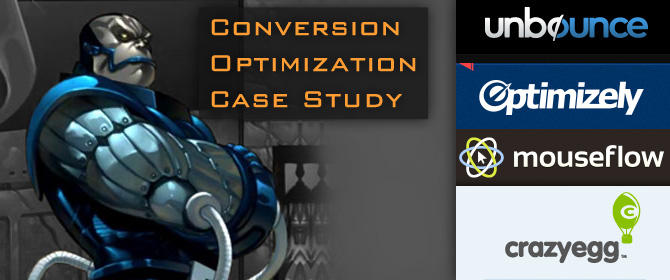 Follow Up to Day 1's setup…
Hypothesis: "I suspect the new content and new pastel blue button will lead to increased sales"
Optimizely Is officially setup. Pretty easy to run through, I watched the 2 intro videos just in case. FYI, I had to give them my credit card information to get start ed:(
I wish they had the videos in higher resolution, cause you couldn't see some of the elements, but you can figure it out if you are dual-screening like me. I simple setup a redirect to the 2nd landing pages with the 1st copywriter's content on. I setup tracking for the buttons on the main landing page, it's using the same CSS code elements on the 2nd landing page, which I am unable to edit, so hopefully it translates over.
I was a bit unsure if the thank-you page would be tracked correctly, since it's a redirect, so I setup 2 purchase tracking. One for the download, and another for the redirect – thinking about it outloud, that redirect tracking is never going to work since I can't figure out where to put the header in on that page. Also most of the time clients have a tendency to attempt to download the digital product more than once since their first time may have not gone smoothly. I wonder if that is going to screw with the experiment. We'll see, there is some sort of "edit results" option, so we'll see.
I also re-setup Google Analytics properly. The checkout process is handled by a 3rd party, and they have Google Analytics integration, I just wasn't doing it correctly in the Goals even though the purchases were registering. Going back into Optimizely apparently there is a Google Analytics option which all you have to do is enable it, and it should show up in Custom Variables – Done.
—
Crazyegg has lost it's mind. Apparently there is only a yearly billing option. These clowns are trying to be slick, knowing that people might cancel, but still want that yearly revenue. They're not fooling anyone, but whatever. I'll circle back to them.
Alright, I setup Crazyegg, still feeling like I got raped for the yearly billing, and I attempted to go view videos and they weren't even embedded correctly 🙁
The interface was pretty easy to get, so I skipped the videos and created 2 snapshots test (one for each landing page). 1 snapshot = 1 page – then updated the tracking code and uploaded. Still having Optimizely open, I went to edit the area for heatmap integration and inputed the Crazyegg Api Keys (In crazyegg go to "options" and scroll down, then click edit to see it – even though you can't actually "edit" the codes; All you can do is just shake your head at some of this foolishness).
—
I'm going to hold off on MouseFlow for now. I realize I already have a customized scrolling tracking script and I really want to be careful with all the added javascript to the landing pages. I'd rather make sure the first 2 work, and then use Mouseflow in the future if I disable my scroll one. I'll circle back in a week on this.
—
As I update this I already got 14 visitors in Optimizely, which means it's work pretty well. 🙂 It's way too early to tell, but it appears there is a 200% improvement in engagement on the 2nd landing page, Variation 1 (the original landing page is the controlled or "Baseline" one).