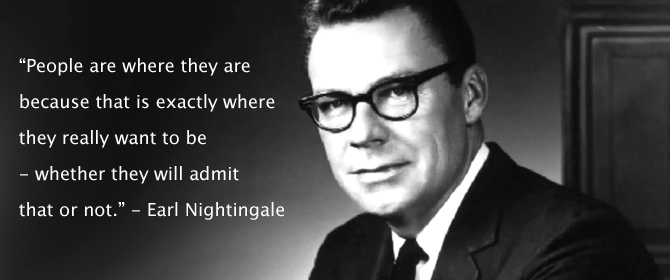 "People are where they are because that is exactly where they really want to be – whether they will admit that or not." – Earl Nightingale
The reason you are where you are, is because you chose to be there. If you have the ability to go beyond your current predicament, then find out what's holding you back and drop it. I realized I've finally arrived at a place where I know why I'm not operating at 100%, and the only way to break that cycle, is to force change. Whether it's throwing myself into a situation where there is no escape, therefore I have to re-rise, or getting back up from a defeat. The final level is your own mind. Learn to control your mind, learn to not listen to other people's influences, turn off the talking box, turn off skype, get off the forum, and think.
Be alone with your thoughts for a day and try to deeply understand your problems and HOW you got into your current situation. If you don't like it, change it. First you have to solve the root of the problem, mend the broken bridge.
One of my biggest problems early on in life was I wanted to make people feel comfortable, but there was also a darker side, that came out. Now I realize, that most people live their life thinking they have to battle the bad by pretending to be good. Well, what if I don't want to give money to that charity…? Does that make me automatically bad? Wouldn't that just make me neutral?
What if I really don't give a shit about the next guy until I solve my own problems. Good and Bad will always exist within each man, and as a human you have to embrace both. What if I told you it's alright to be bad? How much more freedom will you realize in your own mind? It's also alright to be good. I stopped passing judgement on others, I don't really give a shit what others do, they have their own demons to fight, maybe they'll win the battle, most likely they won't, either way it's not going to change anything I do. Only reason I would concern myself with others' activities is if I want to gossip, and if I have time to gossip, well then I really need to reconsider my priorities in life, no?
Look at your surrounding, look at the people that you call successful and look up to. Don't listen to what they say, but WATCH what they do. What motivates them. What I've noticed is most people have a self-centered desire. Now, being self centered is not EVIL – somewhere along the way religion or society has pussified us into believing first looking out for yourself is evil. Is it evil to want to breathe? Is it evil to want to eat? Is it evil to want to survive on this earth? Is it evil to want to fulfill my own dreams and desires? What about if I want to fulfill them first, above all else? I can't do any of that without first thinking of my own survival. But they teach you, man is of sin, going back to the myth of The Garden of Eden, where man fell into sin when he gained knowledge. Knowledge of what? Knowledge of thinking.
Tell me what animal on the planet can curse their own life, and sacrifice themselves for the good of others and expect to survive? None. But yet to think about being better than yourself and improving your own life – thinking in a self-centered first mentality is somehow evil?
Don't be fooled by society's propaganda. When the cards are down, every single person is going to try and save themselves first, then maybe their neighbor. So if at the basic level you are wired to survive, why is it that we, for the most part, are taught to lead a life where we are indoctrinated to think of others first? There is only one reason for that… The dollar bill. Remember I said to no longer listen to what people say, but WATCH their actions.
Imagine you are visiting this planet from another world, you observe humans congregating in a group, then giving themselves to that group's leader. The humans are giving that group's leader their time, effort, maybe even money, or the whole of their life… Would you think this is an intelligent species? Some of you may imagine that I'm talking about a cult, others might think of a religious priest, yet others will think of their employers, you see what happens from different perspectives. But the game is still the same. Instead of listening and following your own desires, not what society and your parents tell you are your desires, but you're own true desires, you are following around some 'group leader' and helping them fulfill their own desires or dreams. I guarantee you that you are answering to someone else, and that's one of the main things that is holding you back. You might be listening to a ghost's desires which you are following and not even realizing it consciously.
You'd better wake up fast. Life is passing you by, you aren't suppose to be a robot, if you've got a job, create a business that'll allow you to escape the shackles of following someone else's dreams. If you've got a business, figure out how to automate it so you can live more of your life and not have your life become just "work". Hell if you love working, then do it. But there is nothing wrong with NOT loving working. Just like there is nothing wrong with thinking of your own self interest first.
I'll leave you with a paragraph from John Galt's speech in Atlas Shrugged that hopefully starts to create a crack in the foundation that's holding you back:
"The good, say the mystics of spirit, is God, a being whose only definition is that he is beyond man's power to conceive-a definition that invalidates man's consciousness and nullifies his concepts of existence. The good, say the mystics of muscle, is Society-a thing which they define as an organism that possesses no physical form, a super-being embodied in no one in particular and everyone in general except yourself. Man's mind, say the mystics of spirit, must be subordinated to the will of God. Man's mind, say the mystics of muscle, must be subordinated to the will of Society. Man's standard of value say the mystics of spirit, is the pleasure 0f God, whose standards are beyond man's power of comprehension and must be accepted on faith. Man's standard of value, say the mystics of muscle, is the pleasure of Society, whose standards are beyond man's right of judgment and must be obeyed as a primary absolute. The purpose of man's life, say both, is to become an abject zombie who serves a purpose he does not know, for reasons he is not to question. His reward, say the mystics of spirit, will be given to him beyond the grave. His reward, say the mystics of muscle, will be given on earth-to his great-grandchildren.

Selfishness-say both-is man's evil. Man's good-say both-is to give up his personal desires, to deny himself, renounce himself, surrender; man's good is to negate the life he lives. Sacrifice-cry both-is the essence of morality, the highest virtue within man's reach.

"Whoever is now within reach of my voice, whoever is man the victim, not man the killer, I am speaking at the deathbed of your mind, at the brink of that darkness in which you're drowning, and if there still remains within you the power to struggle to hold on to those fading sparks which had been yourself-use it now. The word that has destroyed you is 'sacrifice.' Use the last of your strength to understand its meaning. You're still alive. You have a chance."
You still do have a chance… If you don't like where you are at, reject everything that is shackling you down and take back control of your life, your destiny, and your future… There is only one turn in this game of life – no do overs, no repeats, it's your move….